Capture immersive 8K videos and 45MP photos with the smallest Canon Cinema EOS camera, ready for everything.
Full-frame cinematic video in 8K
Capture incredible detail with low noise thanks to the full-frame sensor that delivers 8K video recording up to 30fps (or 60fps with external power supply), 4K/Full HD oversampling content, and immersive 4K slow motion up to 120fps.
Top 8K quality, ultimate creative expression
The EOS R5 C can record incredibly impressive DCI RAW videos at 8K at 12 bitsCanon EOS R5C + free Gimbal, using the entire width of the full-frame sensor for a truly cinematic feel. Capturing four times more detail than 4K resolution, the EOS R5 C delivers impressive 8K shots of up to 30fps. Using external power supply, the EOS R5 C delivers 8K up to 60fps, offering brand new creative features after production. The entire 8K full-frame sensor can also be used for 4K or Full HD hardware oversampling, offering excellent clarity with low noise.
4K up to 120 fps with autofocus and audio
In addition to its powerful 8K capabilities, the EOS R5 C can also capture up to 120fps 4K content for immersive slow motion in stunning detail. When writing in this mode, the EOS R5 C maintains the Dual Pixel CMOS autofocus feature, ensuring that each individual frame remains crisp. Audio recording can also be enabled when recording at high frame rates.
The EOS R5 C is the first EOS Cinema EOS camera with Dual Base ISO capability. Dual Base ISO increases sensitivity and minimizes noise during shooting in an environment with weak lighting. When registering for Canon Log 3, ISO 800/3200 options are available and when registering for BT.709 Wide DR, PQ and HLG, ISO 400/1600 options are available. Choosing the most suitable Base ISO value for a specific lighting scenario will ensure optimal dynamic range and low noise, while users can also choose the "Auto Select" mode to automatically switch the Base ISO from the camera.
Hybrid shots: Incredible static 45 Megapixel images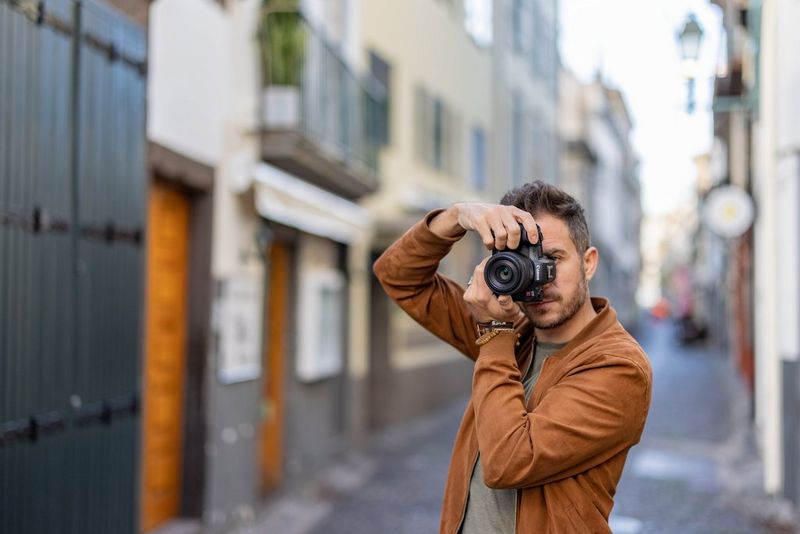 The 45-megapixel CMOS full-frame sensor captures images of incredible clarity, low noise and wide dynamic range, with burst speeds of up to 20fps and an ISO sensitivity of up to 51200. Automatic exposure delimitation offers fixed exposure options, while the interval timer paves the way for creative time-lapses.
Make the switch to stunning high-resolution images
The full-frame sensor and digic x processor of the EOS R5 C work together harmoniously to offer high-quality 45-megapixel images, up to 20fps with the electronic shutter or 12fps with the mechanical shutter. The EOS R5 C's Photo mode also features Canon's renowned Dual Pixel CMOS AF II technology, color science that delivers natural warm tones and ISO sensitivity of up to 52,000, making the EOS R5 C an excellent solution for professional photography.
Professional image formats
The EOS R5 C has the same architecture as the EOS R system and therefore can capture images in a wide variety of professional file formats, such as RAW, C-RAW and JPEG. It is also possible to capture 10-bit HEIF images with increased dynamic range and color reproduction, thanks to the gamma PQ HDR setting and the BT.2020 color space.
You can configure the operation of the interval timer present in EOS R5 C to record a certain number of images within the specified time. This feature is ideal for creating professional time-lapse image sequences. In addition, you can set up custom image modes, such as aperture/shutter priority or automatic ISO, ensuring full creative control when creating compelling time-lapse content.
RF-based lens flexibility
The EOS R5 C has an RF lens stand and is compatible with a wide range of optical elements, such as state-of-the-art RF lenses, as well as WITH EF or Cinema lenses, through ef-EOS R base adapters. Advanced 5-axis electronic image stabilization contributes to achieving smooth and stable professional hardware.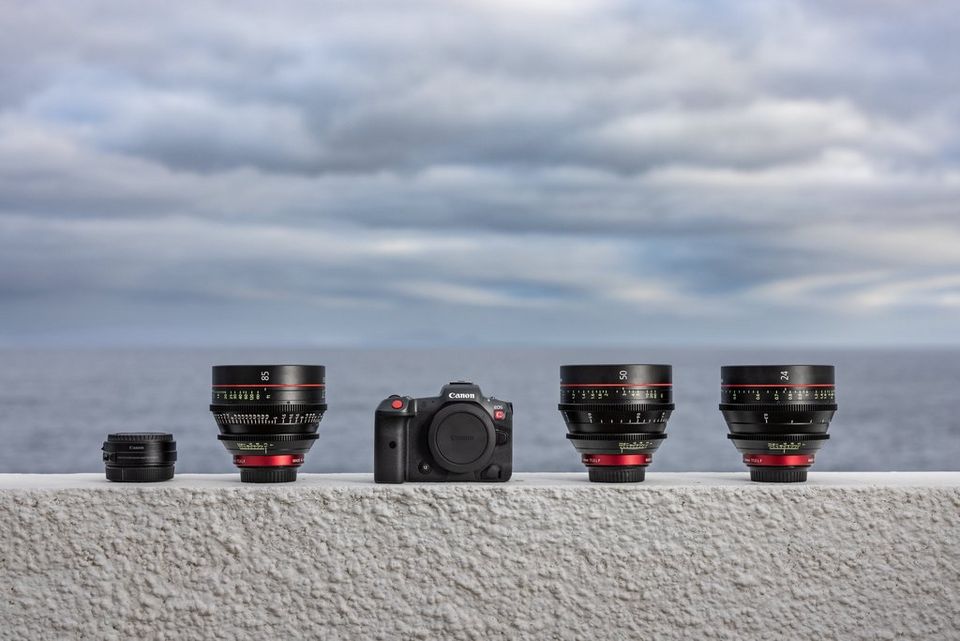 The RF stand offers new opportunities in lens design, where large apertures, high-resolution optical systems and state-of-the-art performance combine to create unique lenses for filmmakers and photographers. The 12-pin RF stand extends the range of communication between the lens and the camera, ensuring an improved level of autofocus, image stabilization and customizable control, and making RF lenses the ideal choice for video capture.
Customize and create with EF-EOS R base adapters
The RF stand remains compatible with Canon's EF cinematic and photographic lenses, thanks to the selected EF-EOS R base adapters. When shooting video, you can achieve extremely shallow depth of field in a brightly lit environment using the drop-in filter base adapter with ND variable.
Advanced electronic image stabilization
The EOS R5 C has the same advanced electronic image stabilization system on 5 axes that the professional Cinema EOS cameras have, such as the EOS C500 Mark II, the EOS C300 Mark III and the EOS C70. This advanced technology works in conjunction with the optical image stabilization system found in compatible lenses, to produce stable and smooth shots. In addition, electronic image stabilization is also available when using non-stabilized lenses, such as fixed lenses and Cinema zoom lenses.
Compatibility with an anamorphic lens
The EOS R5 C supports anamorphic lenses through base adapters from third-party manufacturers. With 2x, 1.8x and 1.3x decompression support via the LCD screen and HDMI output, the EOS R5 C offers greater lens support and flexibility to capture creative cinematic material.
Fully compatible with Canon's 5.2MM F2.8L DUAL FISHEYE RF lens, the EOS R5 C is the ideal solution for creating 180° VR immersive content, thanks to the 8K full-frame sensor and long-lasting recording. This one-lens, camera, and workflow solution, developed by Canon, allows you to create extremely sharp VR content in a simple and efficient way.
Fast, accurate and reliable focus
Try Canon's innovative Dual Pixel CMOS AF technology. Achieve precise focus detection via Eye AF and EOS iTR AF X, even when the subject isn't looking towards the camera. The innovative Dual Pixel focus guide helps operators create highly sharp-sharper material even during manual focus.
Advanced autofocus and theme recognition
Canon's Dual Pixel CMOS autofocus technology is known in the industry as a system that professional filmmakers and photographers can rely on. The EOS R5 C features an upgraded version of this system, which includes Eye AF and EOS iTR AF X. This technology uses an advanced deep learning algorithm that recognizes faces accurately, even when only one eye is visible, and can detect an issue even when it is not looking towards the camera.
Professional autofocus customization
The EOS R5 C has the same dedicated autofocus settings that Cinema EOS cameras have, such as Face Recognition Only and Face Priority recognition, to ensure that the camera responds appropriately to scene changes. You can also accurately adjust your autofocus speed and response to achieve slow cinematic focus or direct AF for fast action.
Canon's Dual Pixel CMOS autofocus system can also be used when the camera operator uses manual focus. The focus guide is an accurate and innovative tool that visually informs the operator if the focus of the subject is front/back. When the visual aid of the focus guide on the LCD or viewfinder turns green, perfect manual focus is achieved.
Extensive professional forms and recording tools
Choose from a wide range of recording formats, such as three Cinema RAW Light, as well as XF-AVC and MP4. Capture an extensive dynamic range with Canon Log 3, PQ, and HLG recordings, and use professional tools like the waveform screen and The False Colors feature.
Flexible internal recording formats
The EOS R5 C has an internal 12-bit RAW video recording with Cinema RAW Light up to 2.6Gbps. The EOS R5 C has three Cinema RAW Light options, LT (Light), ST (Standard) and HQ (High Quality), which provide greater flexibility in workflow for your production needs.
A host of additional business recording options are also available, such as 4:2:2 10-bit formats, canon XF-AVC trusted on ALL-I or Long GOP up to 810Mbps, HEVC MP4 up to 540Mbps and MP4 4:2:0 8 bit H.264 up to 150Mbps.
In addition, there are options for cropping the sensor from full-frame 8K to 5.9K Super 35mm and 3K Super 16mm formats, for compatible optical lenses and reduced data rates.
The EOS R5 C features the internal PQ and HLG recording formats, as well as Canon Log 3, to achieve extremely dynamic range, keeping the details in both shadows and bright spots. Both PQ and HLG offer content in hdr-ready format, for cinema and tv, in a BT.2020 color space, while canon log 3 offers creative flexibility to grade the material after production.
Dual socket and simultaneous recording multimedia cards
Dual multimedia card slots (1x CFexpress Type B/1x UHS-II SD) provide advanced simultaneous recording options, where different formats, resolutions and bit depths can be written on each card, supporting a variety of professional workflows. Traditional mediators are also available 4:2:0 8 bits and sequential recording/recording in two slots.
External RAW recording in 8K via HDMI
The EOS R5 C has the ability to transmit RAW via HDMI to compatible Atomos recorders, such as NINJA V+ for 8K ProRes 10-bit RAW recording up to 30fps. XF-AVC intermediaries can also be recorded simultaneously on the SD card for an efficient post-production workflow.
Small cinematographic camera: Lightweight compact design with active cooling system
The EOS R5 C is the smallest and lightest Canon EOS cinematographic camera, with an OLED viewfinder, a bright hinged LCD screen and 13 user-defined buttons. The new active cooling fan allows long-lasting video recording, while the durable magnesium alloy body ensures professional durability.
Internal cooling system for long-term recordings
The EOS R5 C implements an active cooling system that effectively dissipates heat from the main body and allows long-lasting video recording at a resolution of 8K up to 60P. The "Always on" and "Automatic Fan" mode options allow users to minimize possible fan noise during recording.
Intelligent design with LCD touchscreen and 13 programmable keys
The EOS R5 C features a high-resolution 0.5-inch OLED electronic viewfinder for accurate image resolution, a dot-matrix display for quick control of camera settings and states, and a bright 3.2-inch modular LCD display for easy viewing from multiple angles during the day or night.
Despite its small size, the EOS R5 C also has 13 programmable keys and three digital selectors. These features can be programmed through a new UI to quickly access your favorite video/photo features, such as the wavescreen screen, autofocus, and high frame rate.
Filming: Advanced connectivity, professional connectivity
The connectivity to the EOS R5 C includes special terminals for timer input/output, 3.5mm microphone input, headphone output, micro-HDMI output, flash synchronization, N3 remote control and USB-C terminal for power, charging and communication. A protective cable is included in the package to secure the USB-C and micro-HDMI connections during reception.
Battery handle and wireless file transfer
Existing EOS R system accessories, such as the BG-R10 battery handle and the WFT-R10 wireless file transfer module, are supported by the EOS R5 C. While both accessories accept two battery modules (LP-E6NH, LP-E6N or LP-E6), the WFT-R10 module enhances networking functionality with 2x2 5Ghz dual antennas and Ethernet connectivity. Although the EOS R5 C has built-in Wi-Fi and Bluetooth, this accessory is essential for the wireless use of the Browser Remote and Content Transfer Mobile applications.
Extensive software application support
The EOS R5 C combines the world of Cinema EOS with that of EOS R, offering compatibility with a wide range of professional filming, photography and virtual reality applications, both for smartphones and personal computers. This includes the Browser Remote application, for remote access to advanced settings and Instant View. Content Transfer Mobile application for transfer of indicative files / metadata processing. Cloud image.canon service for backing up high-quality images.
External power source for 8K/60P
In addition to the LP-E6NH/LP-E6N/LP-E6 batteries, the EOS R5 C can be powered via an external power source (required for access to an 8K record above 30fps). The supported power sources include the USB-C power supply from the PD-E1 adapter, as well as the combined use of the DC DR-DE6C inverter and the CA-946 power adapter. Usb-C powerbanks can also be used with power supply from third-party manufacturers.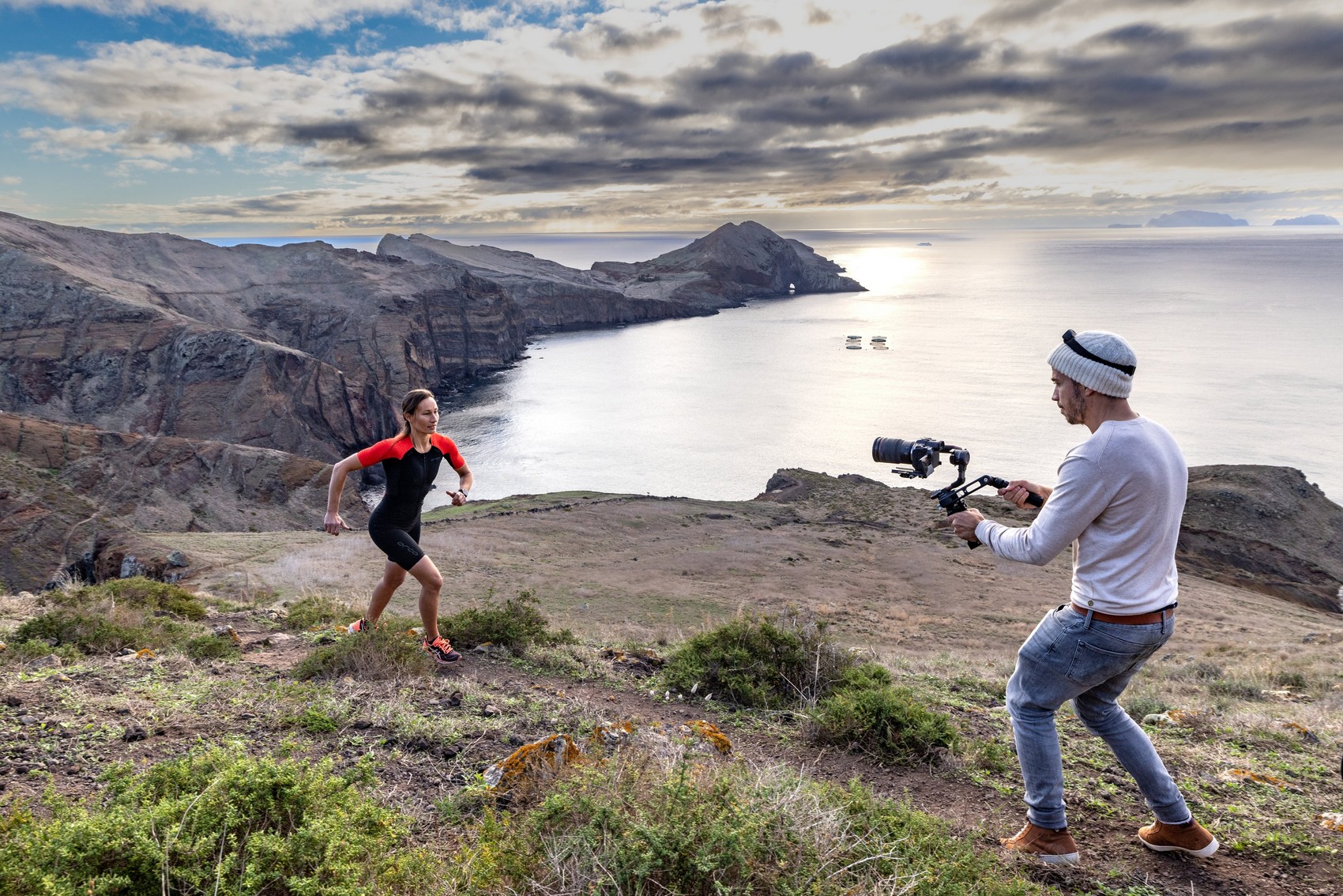 Package Contents
Canon EOS R5C

Shoulder strap SS-1200

Canon LP-E6NH Battery Pack

Canon LC-E6 Battery Charger

Canon IFC-100U interface cable

Cable protector

User manual kit

Official Manufacturer's Warranty
Official Manufacturer's Warranty:
2 years
Imaging
Lens Mount

Canon RF

Lens Communication

Yes, with Autofocus Support

Sensor Resolution
Actual: 47.1 Megapixel
Effective: 45 Megapixel (8192 x 5464)
Sensor Type

36 x 24 mm (Full-Frame) CMOS

Crop Factor

1.6x

Pixel Pitch

5.5 µm

Image Stabilization

Digital

Built-In ND Filter
None
Internal Filter Holder

No

Capture Type

Stills & Video
Exposure Control
Shutter Type

Electronic Shutter, Mechanical Focal Plane Shutter

Shutter Speed
Mechanical Shutter
1/8000 to 30 Seconds
Electronic Front Curtain Shutter
1/8000 to 30 Seconds
Electronic Shutter
1/8000 to 0.5 Seconds
Bulb/Time Mode

Bulb Mode

ISO Sensitivity
Photo
100 to 51,200 in Manual Mode (Extended: 50 to 102,400)
100 to 12,800 in Auto Mode (Extended: 100 to 51,200)
Video
100 to 51,200 (Extended: 50 to 102,400)
Metering Method

Center-Weighted Average, Evaluative, Partial, Spot

Exposure Modes

Aperture Priority, Manual, Program, Shutter Priority

Exposure Compensation

-3 to +3 EV (1/3, 1/2 EV Steps)

Metering Range

-3 to 20 EV

White Balance
0 to 0K
Presets: Auto, Cloudy, Color Temperature, Custom, Daylight, Flash, Fluorescent (White), Tungsten
Continuous Shooting
Mechanical Shutter
Up to 12 fps at 45 MP for up to 180 Frames (Raw) / 350 Frames (JPEG)
Electronic Shutter
Up to 20 fps at 45 MP for up to 83 Frames (Raw) / 170 Frames (JPEG)
Interval Recording

Yes

Self-Timer

2/10-Second Delay
Internal Video Capture
Raw Recording
Raw, Cinema RAW Light
8192 x 5464 at 23.98/24.00/25/29.97/50/59.94 fps [1030 to 2570 Mb/s]
5952 x 3140 at 23.98/24.00/29.97/50/59.94 fps [544 to 1360 Mb/s]
2976 x 1570 at 23.98/24.00/25/29.97/50/59.94 fps [138 to 344 Mb/s]
Recording Modes
Raw 12-Bit
DCI 8K (8192 x 4320) at 23.98p/24.00p/25p/29.97p [2600 Mb/s]
AVC-Intra/AVC-LongG/XF-AVC 4:2:2 10-Bit
DCI 4K (4096 x 2160) at 23.98p/24.00p/25p/29.97p/59.94p/100p/119.88p [160 to 810 Mb/s]
UHD 4K (3840 x 2160) at 23.98p/25p/29.97p/50p/59.94p/100p/119.88p [160 to 810 Mb/s]
Full HD (1920 x 1080) at 23.98p/25p/29.97p/50p/59.94p [50 to 310 Mb/s]
HD (1280 x 720) at 50p/59.94p [8 to 12 Mb/s]
AVC-LongG/MP4 4:2:2 10-Bit
DCI 8K (8192 x 4320) at 23.98p/24.00p/25p/29.97p [400 to 540 Mb/s]
UHD 8K (7680 x 4320) at 23.98p/25p/29.97p [400 to 540 Mb/s]
DCI 4K (4096 x 2160) at 23.98p/24.00p/25p/29.97p/50p/59.94p/100p/119.88p [100 to 225 Mb/s]
UHD 4K (3840 x 2160) at 23.98p/25p/29.97p/50p/59.94p/119.88p [100 to 225 Mb/s]
DCI 2K (2048 x 1080) at 23.98p/24.00p/25p/29.97p/50p/59.94p [35 to 50 Mb/s]
Full HD (1920 x 1080) at 23.98p/25p/29.97p/50p/59.94p [35 to 50 Mb/s]
HD (1280 x 720) at 50p/59.94p [8 to 12 Mb/s]
AVC-LongG/MP4 4:2:0 8-Bit
DCI 4K (4096 x 2160) at 23.98PsF/24.00p/25p/29.97p/50p/59.94p/119.88p [100 to 225 Mb/s]
UHD 4K (3840 x 2160) at 23.98p/24.00p/25p/29.97p/50p/59.94p [100 to 225 Mb/s]
DCI 2K (2048 x 1080) at 23.98p/24.00p/25p/29.97p/50p/59.94p [35 to 50 Mb/s]
Full HD (1920 x 1080) at 23.98p/24.00p/29.97p/50p/59.94p [35 to 50 Mb/s]
HD (1280 x 720) at 50p/59.94p [8 to 12 Mb/s]
Sensor Crop Modes
Super35 / APS-C
5952 x 3184
4096 x 2160
3840 x 2160
Super16
2976 x 1570
Sensor Crop While Recording
5K (5088 x 3392) in 1.6:1 When Recording in Raw
2K (2400 x 1600) in 1.6:1 When Recording in Raw
Gamma Curve

Canon Log 3, HDR-HLG, HDR-PQ, Rec2020, Rec709

Recording Limit

Unlimited

Video System

NTSC/PAL
External Video Capture
External Recording Modes
4:2:2 10-Bit via HDMI
DCI 4K (4096 x 2160) up to 59.94p
UHD 4K (3840 x 2160) up to 59.94p
IP Streaming
None
Still Image Capture
Image Sizes
3:2 JPEG / Raw
8192 x 5464
5088 x 3392
3:2 JPEG / Raw
8192 x 5464
5808 x 3872
4176 x 2784
2400 x 1600
4:3 JPEG / Raw
7280 x 5464
5152 x 3872
3715 x 2784
2112 x 1600
16:9 JPEG / Raw
8192 x 4608
5808 x 3264
4176 x 2344
2400 x 1344
1:1 JPEG / Raw
5456 x 5456
3872 x 3872
2784 x 2784
1600 x 1600
Aspect Ratio

1:1, 3:2, 4:3, 16:9

Image File Format

C-RAW, HEIF, JPEG, Raw

Bit Depth

14-Bit
Interface
Media/Memory Card Slot
Slot 1: CFexpress Type B
Slot 2: SD/SDHC/SDXC (UHS-II)
Video I/O
1 x Micro-HDMI Output
Audio I/O
1 x 1/8" / 3.5 mm TRS Stereo Mic/Line Input
1 x 1/8" / 3.5 mm TRS Stereo Headphone Output
Power I/O
1 x USB Type-C (9 VDC at 3 A) Input
Other I/O
1 x USB Type-C (USB 3.2 / 3.1 Gen 2) (Shared with Power Input)
Wireless
Bluetooth Control
2.4 / 5 GHz Wi-Fi 5 (802.11ac), Wi-Fi 4 (802.11n), Wi-Fi (802.11b/g), Wi-Fi Video Output, Control
Global Positioning (GPS, GLONASS, etc.)
None
Monitor
| | |
| --- | --- |
| Size | 3.2" |
| Resolution | 2,100,000 Dot |
| Display Type | Free-Angle Tilting Touchscreen LCD |
Viewfinder
| | |
| --- | --- |
| Type | Built-In Electronic (OLED) |
| Size | 0.5" |
| Resolution | 5,790,000 Dot |
| Eye Point | 23 mm |
| Coverage | 100% |
| Magnification | Approx. 0.76x |
| Diopter Adjustment | -4 to +2 |
Focus
| | |
| --- | --- |
| Focus Type | Auto and Manual Focus |
| Focus Mode | Continuous-Servo AF, Manual Focus, Single-Servo AF |
| Autofocus Points | Phase Detection: 1053 |
| Autofocus Sensitivity | -6 to +20 EV |
| Built-In Flash | No |
| Maximum Sync Speed | 1/250 Second |
| Flash Compensation | -3 to +3 EV (1/3, 1/2 EV Steps) |
| Dedicated Flash System | eTTL |
| External Flash Connection | Hot Shoe |
Environmental
| | |
| --- | --- |
| Operating Temperature | 32 to 104°F / 0 to 40°C |
| Operating Humidity | 0 to 85% |
General
Battery Type

Canon LP-E6N

Tripod Mounting Thread
1 x 1/4"-20 Female (Bottom)
Accessory Mount
1 x Intelligent Hot Shoe
Dimensions (W x H x D)

5.6 x 4 x 4.4" / 142.2 x 101.6 x 111.8 mm

Weight
1.5 lb / 680 g (Body Only)
1.7 lb / 770 g (With Battery, Recording Media)
Packaging Info
| | |
| --- | --- |
| Package Weight | 3.205 lb |
| Box Dimensions (LxWxH) | 9.7 x 7.8 x 7.5" |